Below is a proposal for Berlin, Germany, written in 2010. This proposal was prepared for the German Sustainable Living and Culture Initiavtive Über Lebenskunst. Über Lebenskunst is a project initiated by the German Federal Cultural Foundation in cooperation with the Haus der Kulturen der Welt. My proposal reached finals level and is featured on their website.
"Like a small record store: the space offers a neighborhood location to ponder on the most universal things. This can be music, or the sky."
I plan to rent a small storefront in Berlin, and for the course of a few months run it as a small museum devoted to the science and art of darkness. I call the space Die Dunkelheit (The Dark). The space is envisioned as an aesthetically pleasing and family friendly place, with exhibits, activities and web content available to the public free of charge. The aim of the museum is to spark visitors' interest in the topic of light pollution and alert them to the benefits and beauty of darkness. This will be done through small publications (postcards) outlining various aspects of the issue. An example could be a taxonomy of birds, bugs and mammals affected by the lack of darkness that they rely on for their livelihood.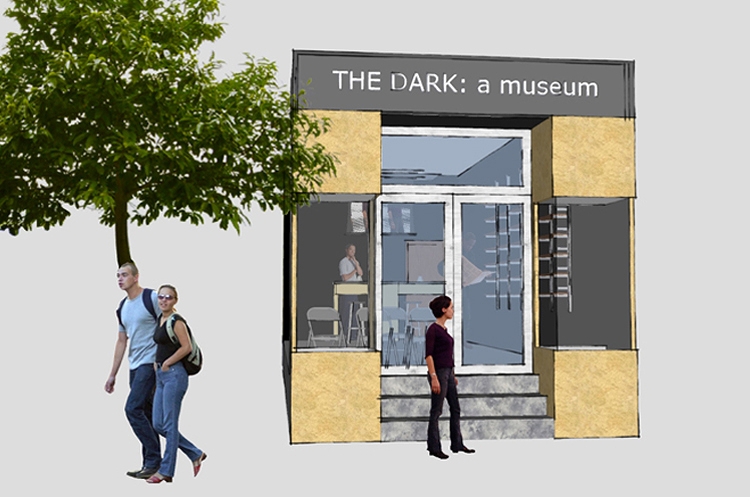 I plan to create and show simple science exhibits in the space: designed in the vein of an interactive science center. The exhibits will be simple demonstrations of light and color phenomena that require darkness to be seen. Further I plan for the space to host activities, such as a workshop on how to design a lamp that causes less problem light, or how to make a simple device to gauge the level of light pollution in your location. Die Dunkelheit will partner with projects such as the MILIEU research project at Freie Universitätand with groups such as the Leibniz Association, so that current research conducted in Germany will be reflected in the activities at the space.
Die Dunkelheit website will gather the latest in light pollution research being done in the area and present it in an accessible and entertaining blog format. I will also welcome researchers from these projects to hold public talks at the space. Artists that have artwork and performances based on absence of light, or the presence of starlight will be invited to showcase their work at the space and on the website for the project. Groups such as sidewalk astronomy clubs will be invited to host activities in the space.
The goal of Die Dunkelheit will to devote a physical space to an issue that may appear ambient and non-consequential to the general public; and in a joyful way engage visitors and content providers together in community with the issue at hand.